BiNatUr adopts a mixed-method approach by combining qualitative and quantitative research methods. The research is conducted in five interlinked work packages. The illustrative figure of SETS framework depicts the integration of research on social, ecological and technological components across work packages (WPs).
Developing SETS approach for empirical studies
WP1 contact person: Kati Vierikko (SYKE) 
The project BiNatUr adopted the theory of social-ecological-technological system (SETS), but we will develop the conceptual model further to be sensitive to identifying and detecting biodiversity of aquaNBS. Based on current scientific publications in the field of SETS and NBS, WP1 will develop an analytical framework to offer theoretical support in preparing interviews and monitoring and mapping SET factors in case study sites. Having a well-established and pre-defined research framework is an advantage for empirical data collection and analysis. WP1 will also develop a comprehensive model of SETS factors influencing biodiversity and ecosystem services (ES) delivery in aquaNBSs, based on analyses and results produced in other WPs. In addition, we produce practical guidelines and recommendations on how urban planning can effectively co-design, monitor, and enhance the biodiversity and ES of aquatic NBS. 
Planning and designing aquaNBS in cities
WP2 contact person: Hanna Nieminen (SYKE), on maternal leave until January 2022 (you may contact Kati Vierikko) 
WP2 aims to understand the role of biodiversity, how it is understood, how it is already supported, and how it could be better enhanced in the planning, implementation, and management processes of urban aquaticNBS in different European countries. WP2 will engage local actors from various sectors in the five project-partner countries to explore the current practices from a biodiversity perspective. We will identify both locally specific and more generic possibilities and challenges related to enhancing biodiversity in aquaNBS in practice. Supporting biodiversity is not yet necessarily an integral part of the planning, designing, implementing or managing NBS in urban context.  
The main methods applied are document analyses and semi-structured expert interviews. We will analyze local land-use, climate and water policy documents in five cities to reveal how NBS are interpreted, contextualized and valued, and whether biodiversity has been considered and supported. We aim to interview different sectoral experts (5-10) from different phases of the process that has led to the implementation of an aquaNBS. Each partner organization will oversee the local activities, including the set-up of a local knowledge alliance (LKA) group and its meetings, document analysis and local expert interviews, with the support of lead and co-lead partners. 
WP3 contact person:
Dagmar Haase, Humboldt Universität 
WP3 will analyse the landscape patterns of urban environments to identify critical social, ecological and technological factors that influence biodiversity and ecosystem services. The methods used are quantitative and rely primarily on freely available spatial data such as GIS and remote sensing data. With the help of these methods and data sources, the catchment areas are analysed. Variables to be analysed are in particular vegetation condition and surface characteristics including sealing as well as the composition and configuration of built-up space and finally population density. The detection of changes in vegetation condition using remote sensing time series (Sentinel 2 and additionally SAR data from Sentinel 1) will allow a better understanding of the variations within the SETS of the catchment or the impact on the aquaNBS. This will allow changes within the catchment to be matched with those identified by the ecohydrological model (WP 4) and ecological measures (WP 5), e.g. by performing principal component and multi-correspondence analyses to identify critical SET factors at all study sites. BiNatUr will also map the adjacent landscape, surface and vegetation diversity of aquaNBS together with WP5, including social and economic predictors such as building and population density, traffic volume and surface cover, to determine the main human influences on the catchment that contribute to or constrain biodiversity and ecosystem services. 
Ecohydrological boundary conditions for Ecosystem Services of aquaNBS 
WP4 contact person: Dörthe Tetzlaff, IGB Berlin 
The WP4 team is interested in how the sources and flow pathways of water affect the persistence of urban aquaNBS and the biodiversity they contain. The approach uses two types of tracers, stable water isotopes and eDNA. Stable water isotopes provide a signal of the material a water molecule was in contact with – like fingerprints - and eDNA tell us which micro-organisms live in the water. Both give clues as to the sources and flow pathways of the water, and also the ages of this water. These data are combined using ecohydrological models to relate water source to aquaNBS resilience and biodiversity.     
WP4's working hypotheses are that stable water isotope tracers and eDNA improve the characterization of the complex sources and pathways of water in cities, including water residence times, and that these effects can be quantified by tracer-aided ecohydrological modelling.   
In each city, the team samples precipitation, surface water, groundwater, and effluents from any nearby sewers and wastewater treatment plants. Samples are analysed in the isotope and genomics laboratories of IGB in Berlin, Germany. We use the EcH2O-Iso model with urban-specific elements to quantify storage dynamics, fluxes and ages of water.   
Biodiversity values of aquaNBS and linkages with regulating ecosystem services
WP5 contact person: Pedro Pinho, University of Lisbon 
The WP5 team is interested in understanding the connection between biodiversity and the provision in ecosystem services. We aim to understand the links between the biodiversity and ES in aquaNBS, taking into account the SETS dimension that influences ecological quality of aquaNBS. In each research area i.e. we will choose totally 12 aquaNBS: 3 replicates per city (or research area) of 4 typologies of aquatic NBS: permanent ponds, temporary ponds, permanent water courses, temporary water courses. Within each aquaNBS will by quantify biodiversity of taxa related with key ecosystem services. Biodiversity will be sampled in surface waters and adjacent terrestrial habitats, including its, functional, and structural components. This will include monitoring of 1) Vegetation in the adjacent terrestrial habitats, 2) Aquatic macrophytes, 3) Aquatic macroinvertebrates, 4) Diatoms and algae by using eDNA analyses (see more in WP4) and 5) Habitat quality. We will the explore how different social, ecological and technological factors influence biodiversity and how this in turn biodiversity influences the provision of ecosystem services (WP4). 
Project management and communication plan
WPX contact person: Kati Vierikko (SYKE) 
Data manager of the project:
Maria Söderholm (SYKE) 
Project management will ensure that the work will be implemented according this project research plan and milestones, deliverables and communication activities are disseminated on time and in excellent quality. BiNatUr will promote responsible science, sustainability development goals, fairness, and gender equality in research-making. We make sure that all partners and close collaborators have sufficient and transparent information about our research. The coordinating partner SYKE is tasked with ensuring that all partners follow FAIR principles in managing data and publishing their scientific findings. The PC is generally responsible for data management and compliance with common guidelines. The WP leaders have a similar responsibility for their WPs.  
WPX will provide the overall coordination of BiNatUr and facilitate exchange and interactions between the consortium partners and with key stakeholders (members of LKA). The WPX coordinator will be the contact point for BiodivERsA and Water JPI. WPX is responsible for monitoring research progress as well as for the timely delivery of milestones and deliverables and disseminating of communication and outreach plan.  
Communication activities and societal interaction for BiNatUr's targeted audience will take place in different forms (see table below). Each WP is responsible for providing 1-2 factsheets or blog entries and organizing events or joining a seminar/webinar organized by other WPs. Timing of the communication activities and different stakeholder workshops will be specified in the interaction and communication plan at the beginning of the project and updated annually together with WP leaders. We have allocated separate funding for workshops, tailored events and other communication products designed and implemented for science-policy-public interaction activities.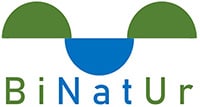 Project funders: 
This research was funded through the 2020-2021 Biodiversa and Water JPI joint call for research projects, under the BiodivRestore ERA-NET Cofund (GA N°101003777), with the EU and the funding organisations The Research Foundation - Flanders (FWO), Belgium; Academy of Finland (AKA), VDI/VDE-IT, Germany; National Science Center (NCN), Poland and Fundação para a Ciência e Tecnologia (FCT), Portugal